by Rebecca O'Dwyer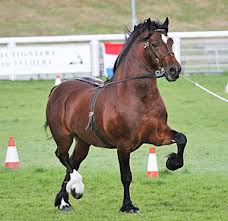 As a keen Equestrian, I enjoy nothing better than a day out at a show watching the hunter classes, wondering at the beauty of our equine friends and celebrating the best in ring. My artistic eye gets such delight from the peachy bottoms and the particular curve that you only really see on the neck of a quality Welsh Cob stallion. Watching the arabs trotting up gives me more pleasure than any catwalk show ever could.
This can sometimes feel like a guilty pleasure, as I am more than aware of the big business that is the horse showing world. The fact is, many show horses are produced on large professional yards where they are seen as a commodity rather than a person, and spend their lives on lorries being carted around the country from show to show. It isn't uncommon for show horses to be stabled for the entire season in case they should get 'dirty' if they were turned out to grass.
Thankfully, we still have a great presence in the showing world from people who love their horses as a member of the family, and showing producers who take the greatest care of their charges mental and emotional health for the time they are with them. Next time you are enjoying your county show, take a good look at the horses in the ring, and notice which animals have that special glint in their eye, the one's that really look alive and happy. Congratulate the judges who give the red rosette to the animal whose spirit remains intact.
Lets all celebrate the owners and producers that turn their horses out so that they can have a good roll in the grass and behave as horses should, with the freedom to kick up their heels if they feel like it. That's what grooming kits are for, after all!
................................................................................................................................................
Rebecca O'Dwyer, Centred Woman

Mind Body Spirit Coach, Artist, Sound Healer, Inspirational Speaker, Constellations Facilitator and Animal Communicator - Rebecca empowers others to live their truth with love.
She inspires women to re-connect to their feminine power through dance and song, and supports them to grow, guiding them deep inside to discover their purpose and gifts. She is a catalyst for transformation, leading others intuitively through processes of profound change and into a more satisfying way of living.